Revel Atlantic City
Revel Resort, Spa and Beach Club - 500 Boardwalk, Atlantic City, NJ 08401
Revel AC Ovation Hall Tickets
Revel is Atlantic City's newest casino - a $2 Billion dollar premier property in the uptown district of the Resort City. The Grand Opening May 25, 2012 makes Atlantic City Revel the first entirely smoke-free casino ever at the Jersey Shore. Every show coming to Revel Casino is a hot ticket, so Revel Box Office will certainly have it's hands full with requests for tickets to the most talked about and highly anticipated theatre in town.
Revel concert tickets are available online or by calling our Revel Ticket Hotline at 866-881-2999. Revel Ovation Hall Tickets should be purchased in advance because Revel shows sell-out very quickly and purchasing tickets at the Revel box office on the night of a show is very unlikely given the overwhelming demand for access to Atlantic City's hottest ticket.
About Revel Casino
Revel Casino features the best resort experience on the East Coast. From it's elaborate and beautiful architecture and decor designed to blend seamlessly with the natural luster of the beach in front of it to the fine dining and entertainment experiences, Revel is a cut above the competition. As of it's initial Grand Opening, Revel has twelve restaurants, a day club that is the talk of the town, as well as two hot nightclubs, six pools, and Atlantic City's finest concert venue, Ovation Hall.
Revel is laid out over six million square feet of prime beachfront real estate in uptown Atlantic City close to Trump Taj Mahal, Resorts, and Showboat. Revel has a controversial hiring policy which has been highly criticized by unions but praised by patrons - Each employee at Revel agree to a four to six-year term of employment and at the end of that term must re-apply for their job. If you've ever had a bad experience at an Atlantic City casino with unmotivated, complacent staff, you will find the Revel to be a breath of fresh air. The purpose of the Revel's controversial employment agreements is to keep in line with their mission to provide a humble, hungry, and smart staff. When you're a guest at Revel, you can expect nothing but the best customer service, environment, and entertainment.
Revel Concert Schedule
Inaugural Concert! Beyonce will be performing at Revel for the Grand Opening festivities at Revel Casino during Memorial Day Weekend 2012. Three nights of Beyonce in Atlantic City exclusively at Revel. Prior to the official Grand Opening of Revel, there will be two other big shows, Maroon 5 and The Black Keys. Order your Revel tickets today and choose from the best seats in the house.
Revel Resort is truly raising the bar for entertainment and live music in Atlantic City by booking the hottest arts in music today to perform at their grand venue, Ovation Hall. Revel concerts in 2012 include Maroon 5, The Black Keys, three nights of Beyonce throughout Memorial Day Weekend, Kid Rock, Sugarland, Seal with Macy Gray, and the Summerland Tour which includes 90s icons Everclear, Sugar Ray, and Gin Blossoms!
In addition to top-notch music choices, Revel will host UFC on FX on June 22. See Mixed Martial Arts live in Atlantic City by purchasing your tickets for the Revel UFC Event from AC Ticket Guys and choosing from the best seats in the house.
New Events are being listed for Atlantic City Revel nearly once a week, so be sure to check this page frequently for the most up to date show schedule information for AC Revel.
Revel Ovation Hall Seating Chart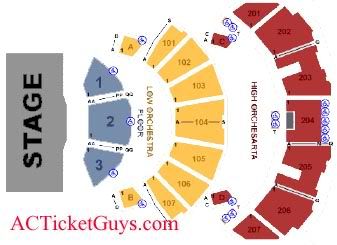 Revel Atlantic City Tickets
Revel Atlantic City Tickets
The following events and venues match your search for "Revel Atlantic City". To sort the list, click on the column header. To find tickets for the given event, date & time, click the tickets link in that row. To find events taking place at a matching venue, click that venue name.
Revel Atlantic City Videos
ACTicketGuys.com has the best selection of Revel Atlantic City seating locations anywhere online, guaranteed. We are a local company with a rather large selection of Revel Atlantic City Tickets on hand. If you are interested in selling, we also will buy your seats, call 1-866-881-2999 for pricing.