Theresa Caputo - Tropicana Showroom Tickets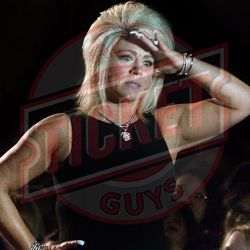 Theresa Caputo at the Tropicana Showroom Atlantic City 6/28 & 6/29 Tickets
Psychic, medium, and star of TLC's hugely popular "Long Island Medium" Theresa Caputo will appear at the Tropicana Showroom in Atlantic City, New Jersey, on June 28th & 29th. With trademark candor and charm, Theresa Caputo will share insight into her life as a medium and will provide audience members with personal readings. Because Caputo has limited control over her readings, she cautions that not every audience member is guaranteed to receive a reading.
Caputo's psychic gifts have been noticeable since childhood. She grew up in the town of Hicksville, New York, located on Long Island. Although she reports she began seeing spirits when she was only 4 years old, she did not learn the full extent of her gift until much later. Recurring anxiety attacks led her to spiritual healer Pat Longo, who helped her discover her ability to communicate with spirits. Longo helped her both accept and channel her gift to limit the anxiety it brought on. With Longo's guidance, Theresa Caputo began practicing as a medium 10 years ago, an act that forever changed her family's life. The business she began with business cards and word of mouth has grown to include a two-year waiting list for private consultations, national speaking engagements, her TLC television show which is in its fourth season, and a recently released book entitled "There's More to Life Than This." Caputo is certified with the Forever-Family Foundation, an organization dedicated to connecting science with the afterlife.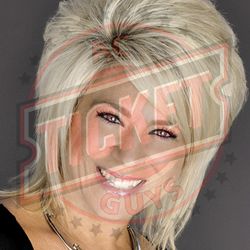 For Theresa Caputo Atlantic City Tickets Call Toll-Free: 1-866-881-2999
Caputo has been married to husband Larry for 23 years. The couple has two grown children, Larry, Jr., and Victoria, and two four-legged children, dogs Petey, and Louie. The show "Long Island Medium" details both Theresa's work as a medium as well as the challenges Theresa's gifts present to her devoted family. Theresa's goal is to provide messages to the living in order to help them heal, receive closure, and embrace life after a loved one passes away. Though detractors question Theresa's abilities, those who have been personally touched by one of Theresa's messages do not doubt the power of her gift. The June 28th & 29th audiences at the Tropicana Showroom in Atlantic City, New Jersey, will bear witness to her incredible abilities as she relays messages from departed loved ones. It's sure to be a show fans won't want to miss.
Theresa Caputo - Tropicana Showroom Tickets Tickets
Theresa Caputo atlantic city Tickets
The following events and venues match your search for "Theresa Caputo atlantic city". To sort the list, click on the column header. To find tickets for the given event, date & time, click the tickets link in that row. To find events taking place at a matching venue, click that venue name.
Theresa Caputo - Tropicana Showroom Tickets Videos
ACTicketGuys.com has the best selection of Theresa Caputo - Tropicana Showroom Tickets seating locations anywhere online, guaranteed. We are a local company with a rather large selection of Theresa Caputo - Tropicana Showroom Tickets Tickets on hand. If you are interested in selling, we also will buy your seats, call 1-866-881-2999 for pricing.