Borgata Tickets
Borgata Concert Venues and Tickets
Atlantic City's grandest casino, Borgata, stands tall at Renaissance Pointe beside Trump Marina, and Harrah's. The 1.1 Billion Dollar Resort opened in 2003 and has set the industry standard ever since. Concerts in either of Borgata's state of the art venues are a fantastic experience as both concert halls have excellent acoustics and perfect sight lines from any seat! Borgata received nationwide attention when the hit HBO show
The Sopranos
filmed an episode on its casino floor. You never know who you might run into at Borgata, Paris Hilton, Bruce Willis, and Michael Jordan are all frequent guests. After any concert, take advantage of either of Borgata's two popular night clubs, Mixx or mur.mur, for an after party. Atlantic City Ticket Guys carries seating options for every concert at Borgata, so order your tickets from us and be assured you're choosing from the best tickets available anywhere online.
Borgata Music Box
A truly unique theatre, The Music Box has the charm of a small town, main street style theatre but has been engineered to have amazing acoustics that are enhanced even further by a state of the art sound system. With fewer than 1,000 seats, Borgata's Music Box sells out extremely fast. Performers who you would normally see at much larger venues choose to perform here because of it's legendary sound.
Borgata Event Center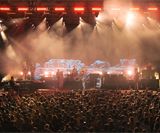 The Event Center hosts Borgata's "bigger shows" like The Rolling Stones, Kid Rock, and Michael Buble. It is approximately three times the size of the very intimate Music Box but still a small enough venue to make for a truly memorable experience with your favorite performer no matter where you sit. The sightlines, even from the worst seats, are exceptional and the acoustics were designed for music, not sports like the other major tour stops.
The Borgata Music Box and Event Center Concert and Show Schedule
Past Performers at Borgata
Since Borgata Hotel, Casino, and Spa was built, it's had a reputation for attracting the top performers in the country. By working with concert promoters including Live Nation and Electric Factory Concerts, Borgata has been able to book a number of artists who do not typically perform at small venues. Previous shows and past performers at Borgata include:
Michael Buble, Frankie Vallie, Jewel, Avril Lavigne, Smashing Pumpkins, Red Hot Chili Peppers, Pearl Jam, Gwen Stefani, No Doubt, Lenny Kravitz, Aerosmith, Styx, Def Leppard, REO Speedwagon, Bon Jovi, Kelly Clarkson, Carly Simon, Sting, Depeche Mode, Artie Lange, Billy Crystal, Robin Williams, Dave Chapelle, The Who, The Rolling Stones, Stevie Nicks, Dave Attell, Dane Cook, Lewis Black, Chris Rock, New Kids on the Block, Fergie, Kid Rock, Eric Clapton, Billy Joel, G. Love and Special Sauce, Kevin James, Bill Cosby, John Mayer, Seal, Spinal Tap, Joel McHale, Blink 182, Don Henley, Scott Weiland, Stone Temple Pilots, Aaron Lewis, Sully Erna, Staind, DJ Tiesto, Bob Dylan, Joe Walsh, Il Divo, Wyclef Jean, Jimmy Fallon, Marc Anthony, Cheech & Chong, John Legend, Melissa Etheridge, David Cook, Kathy Griffin, D.L. Hughley, Chicago, Earth, Wind, and Fire, Nickelback, Hall & Oates, Diana Ross, Chris Cornell and many more!